NeckPieces (2018-present)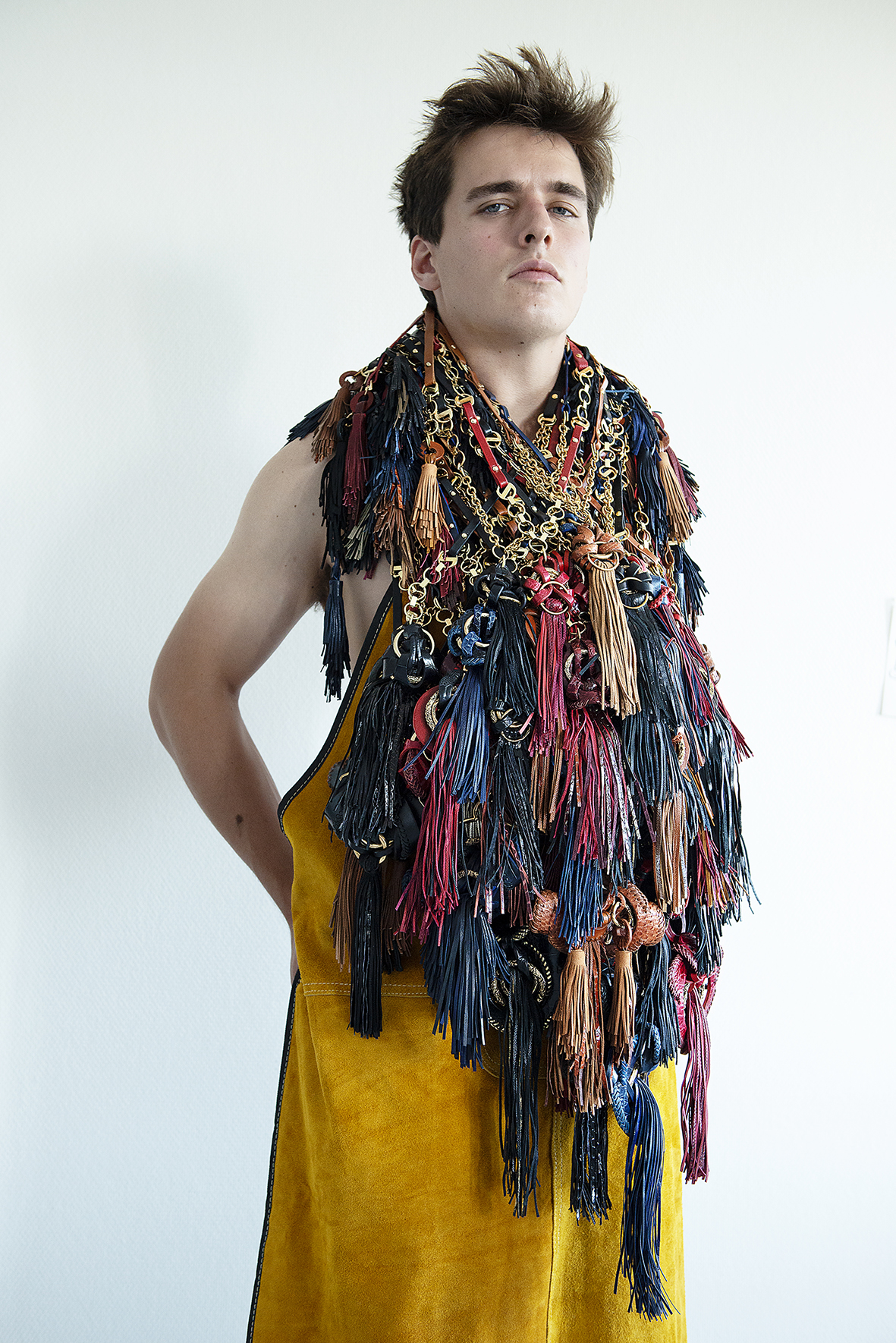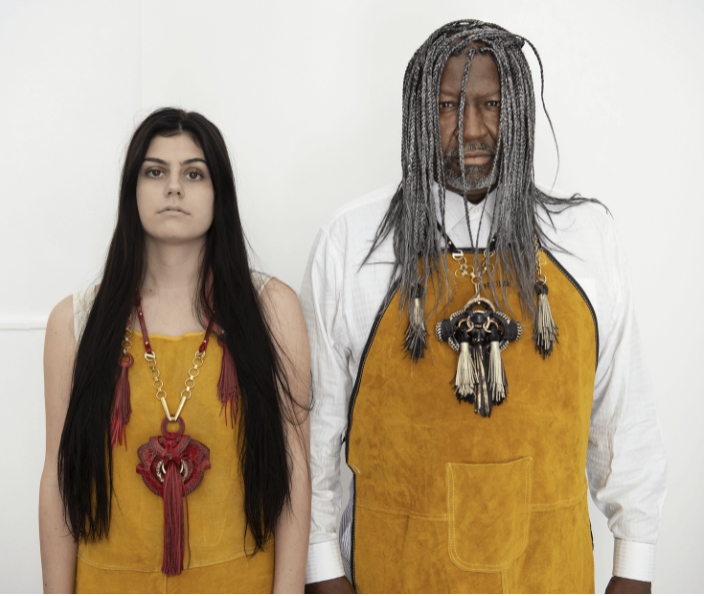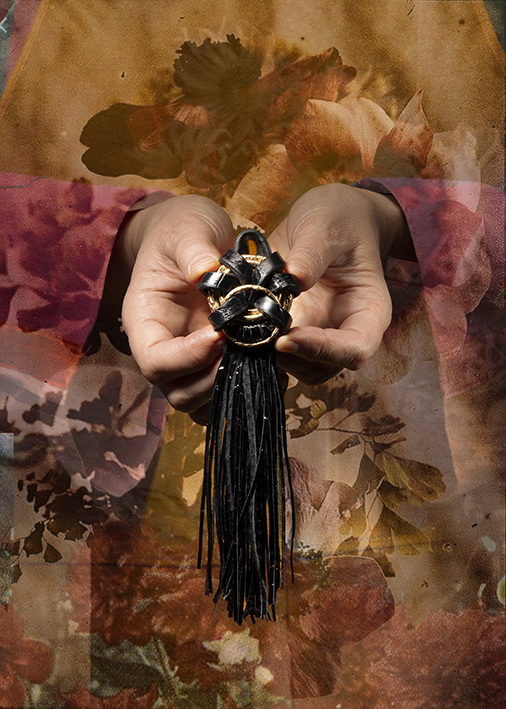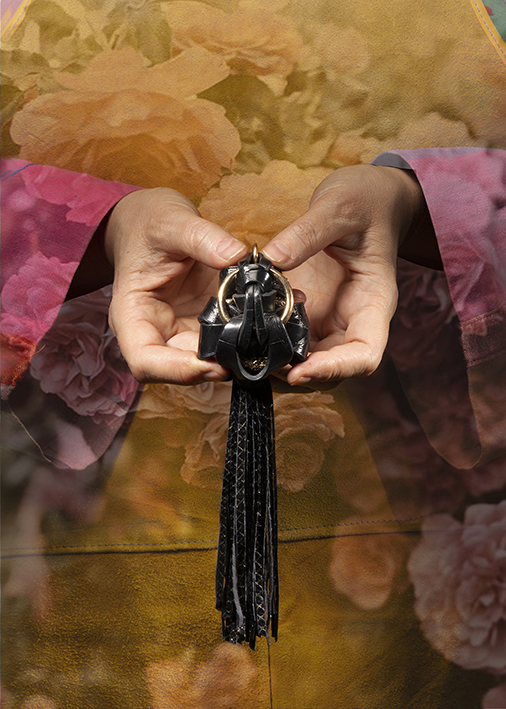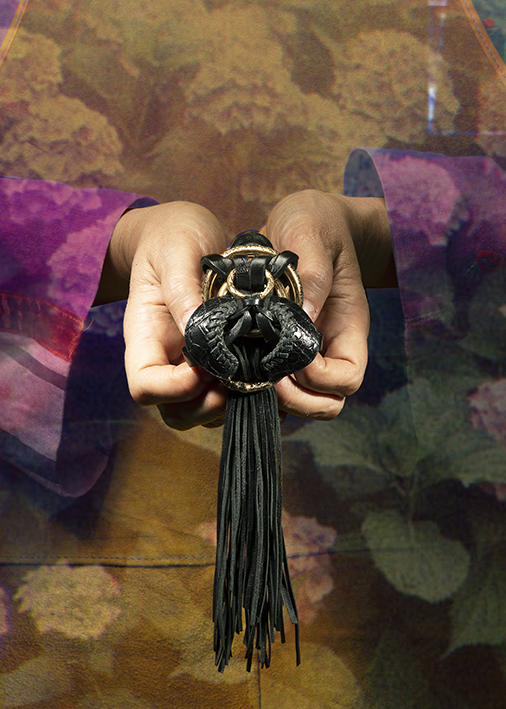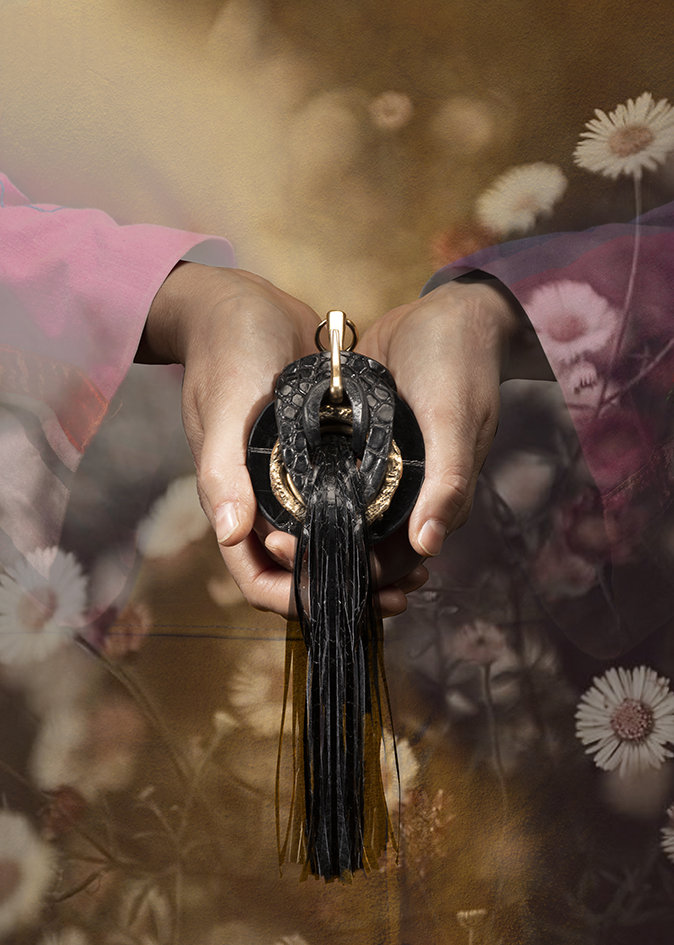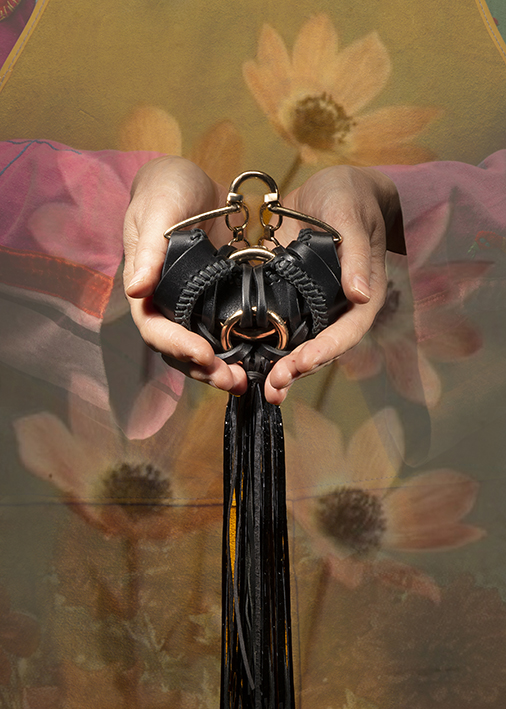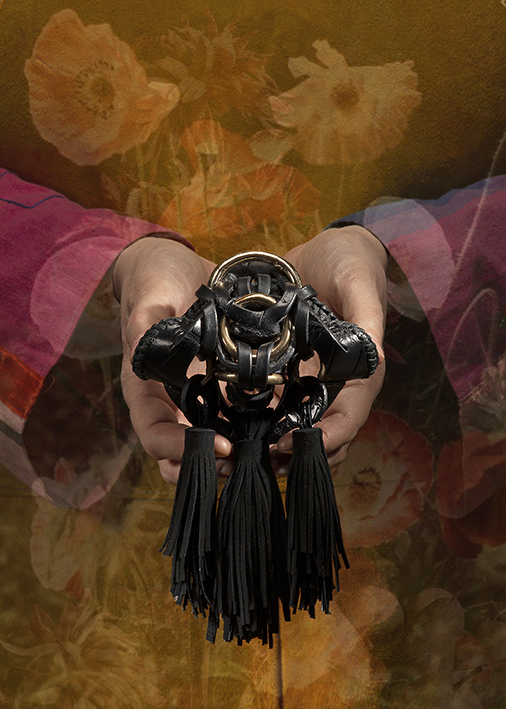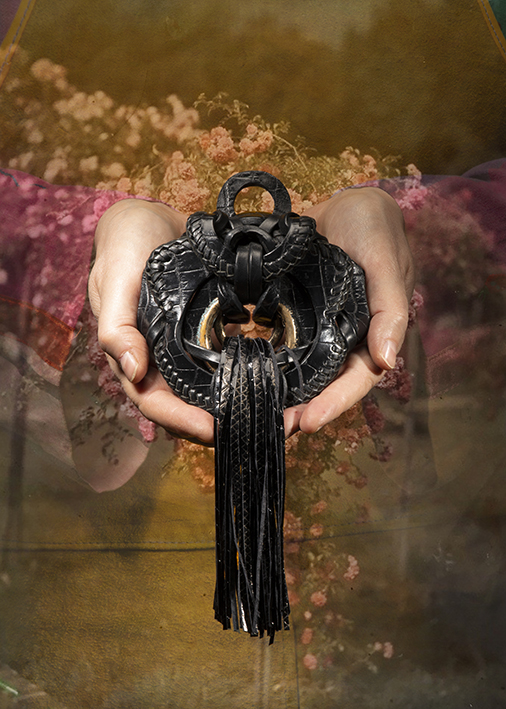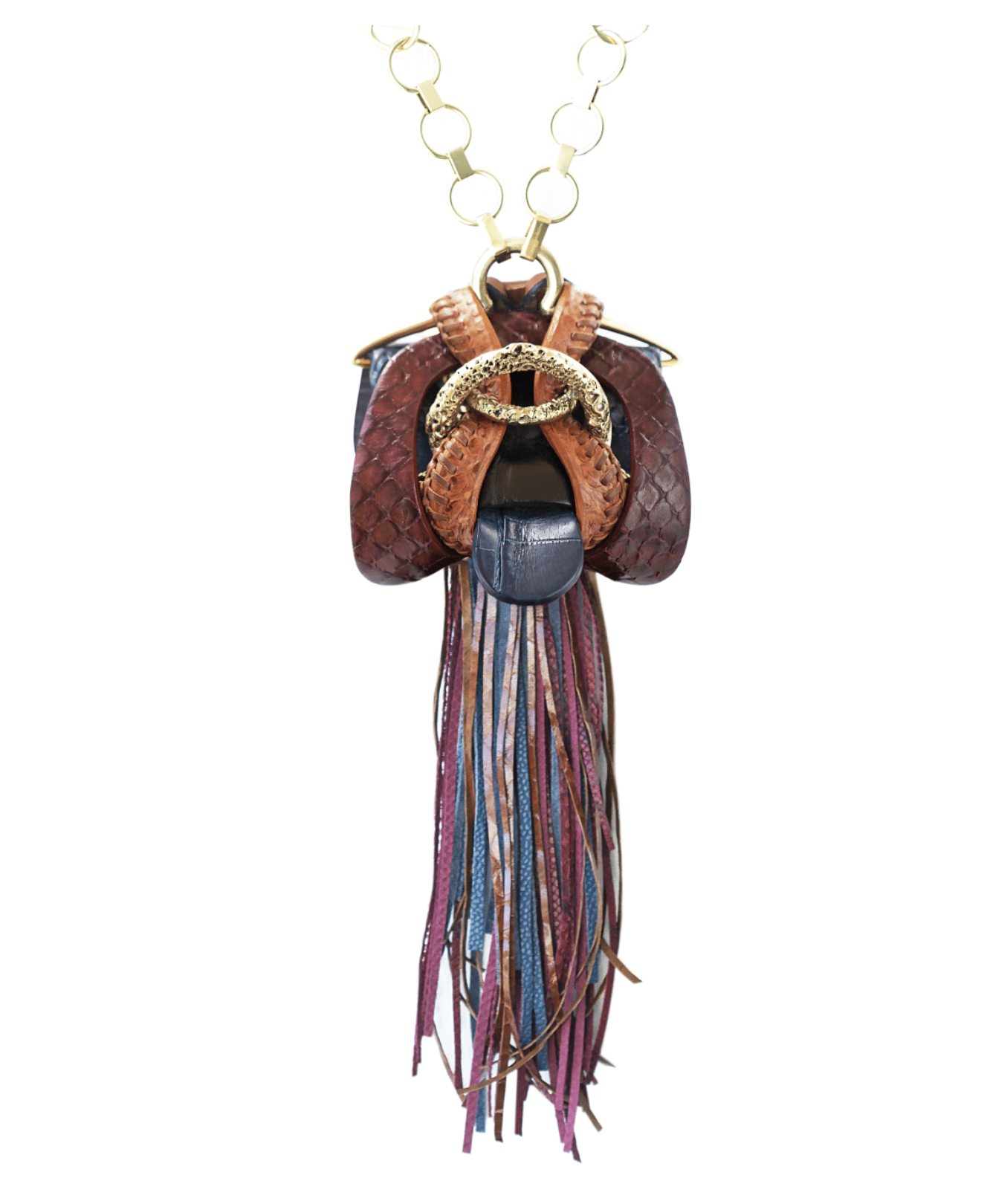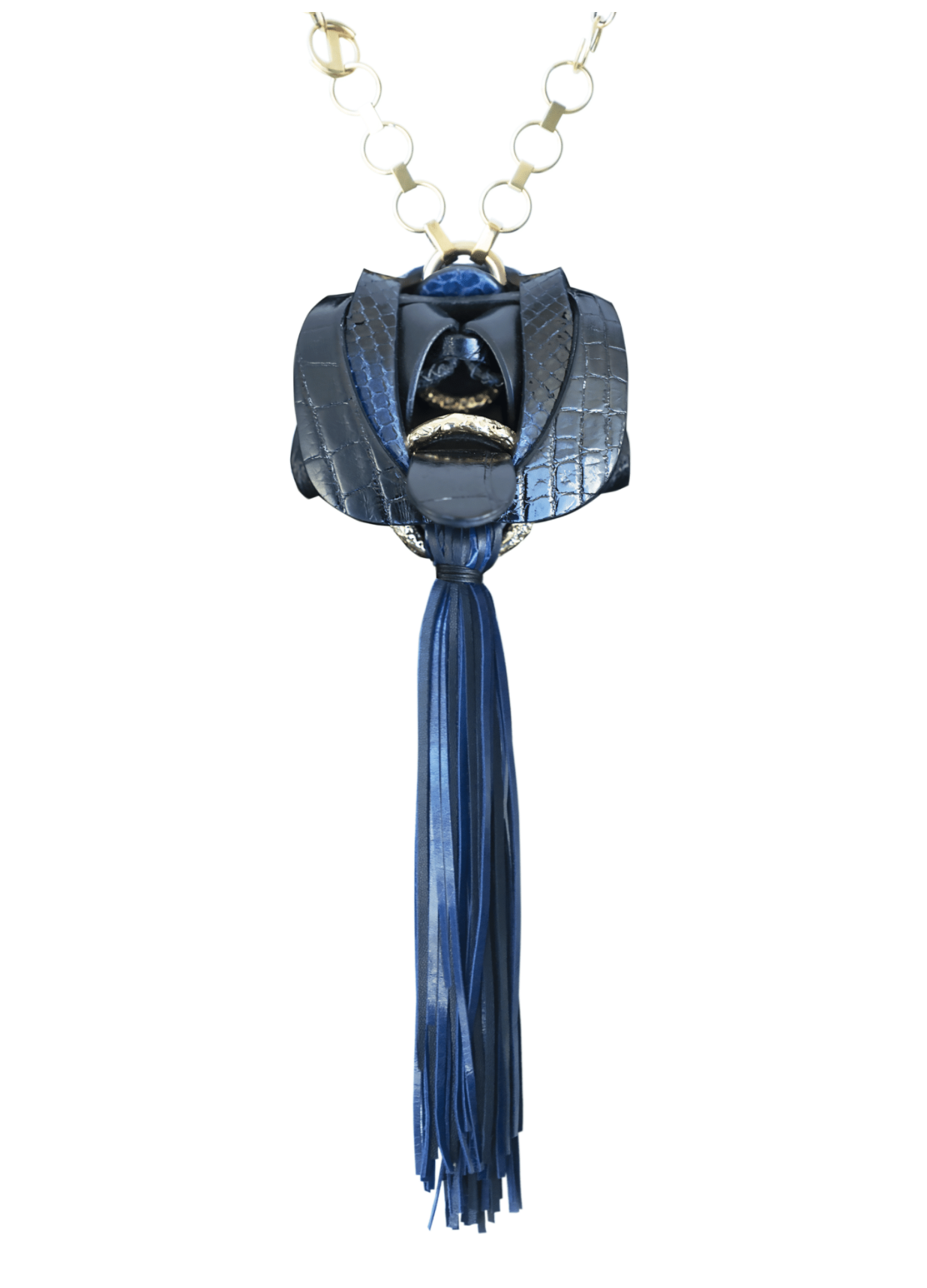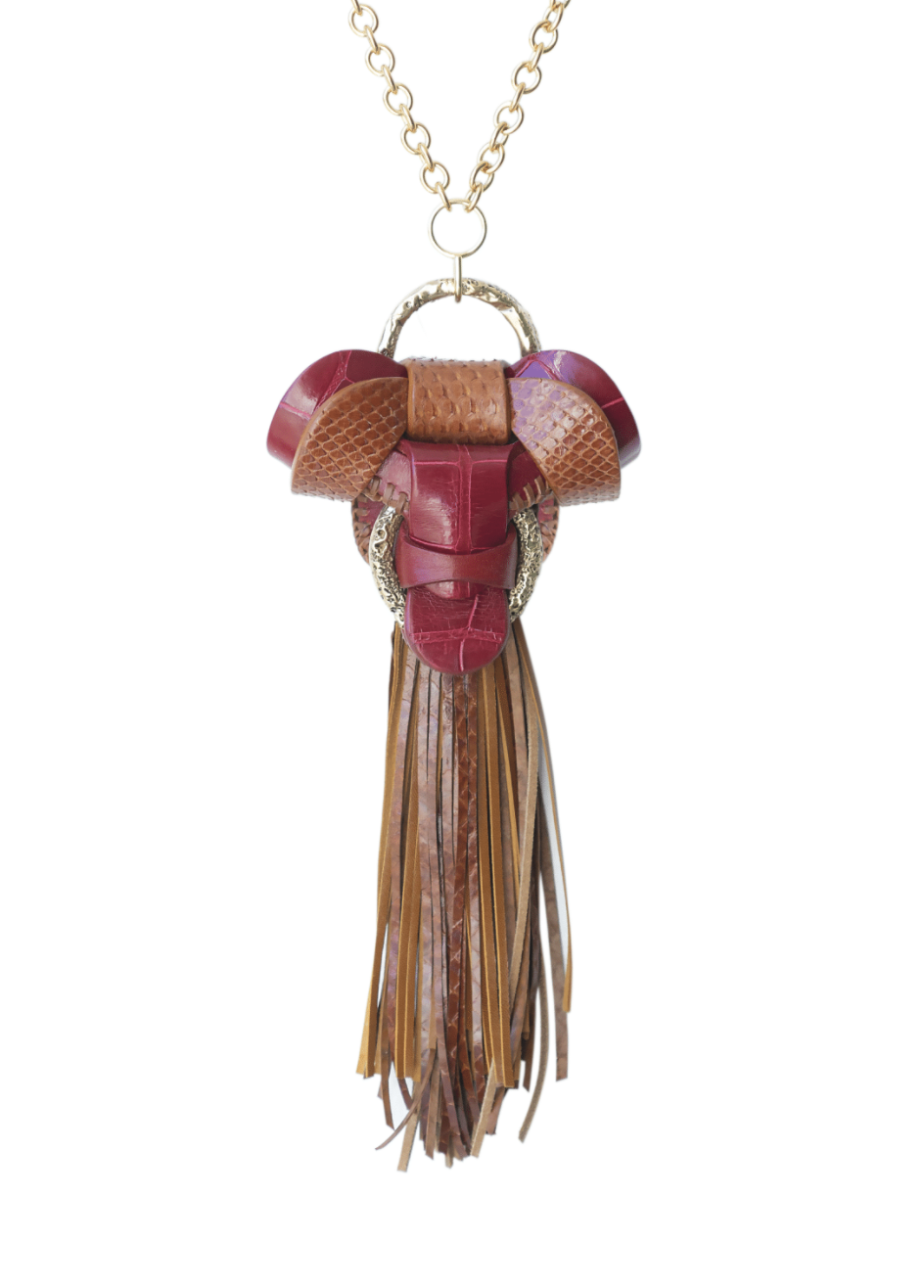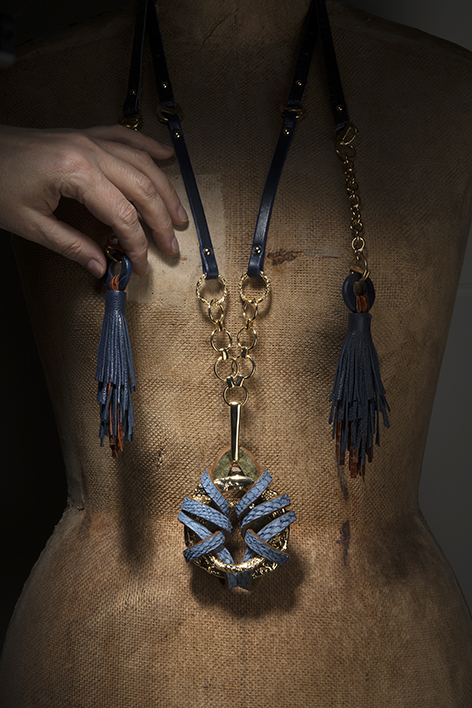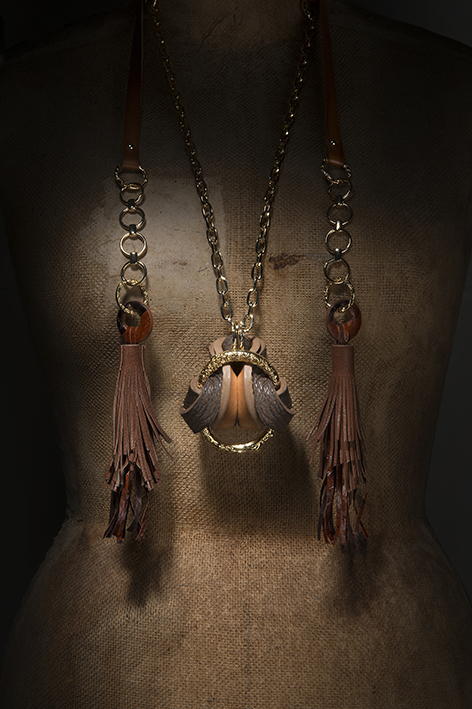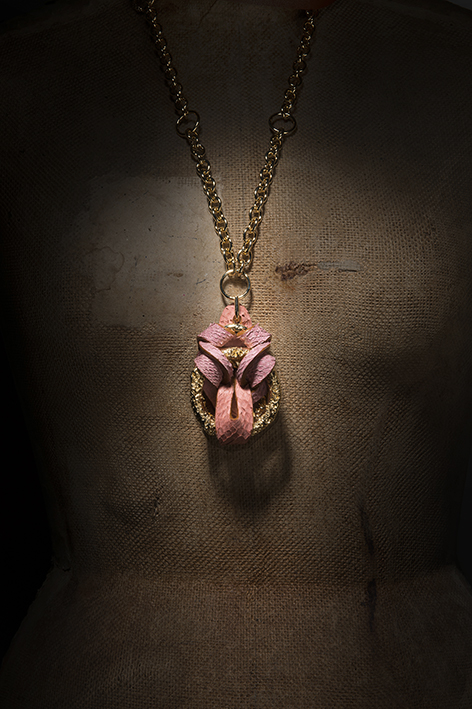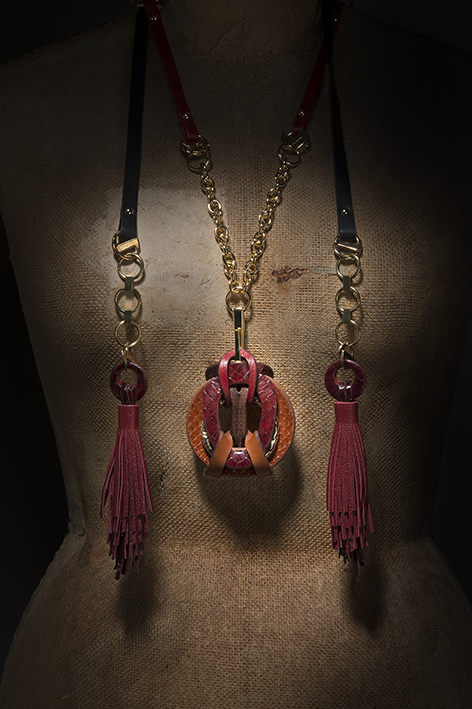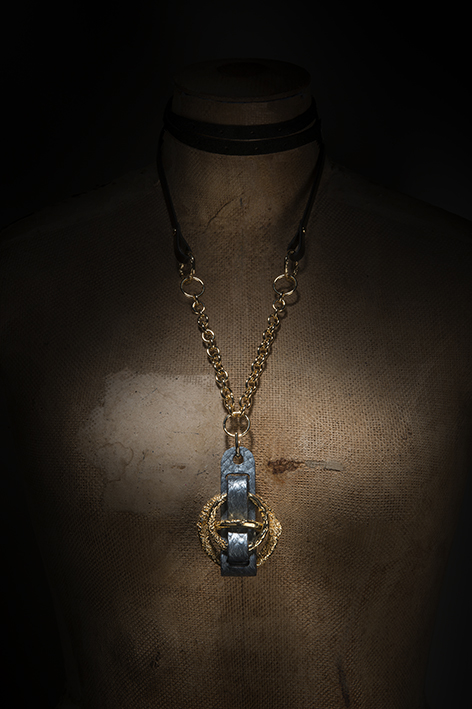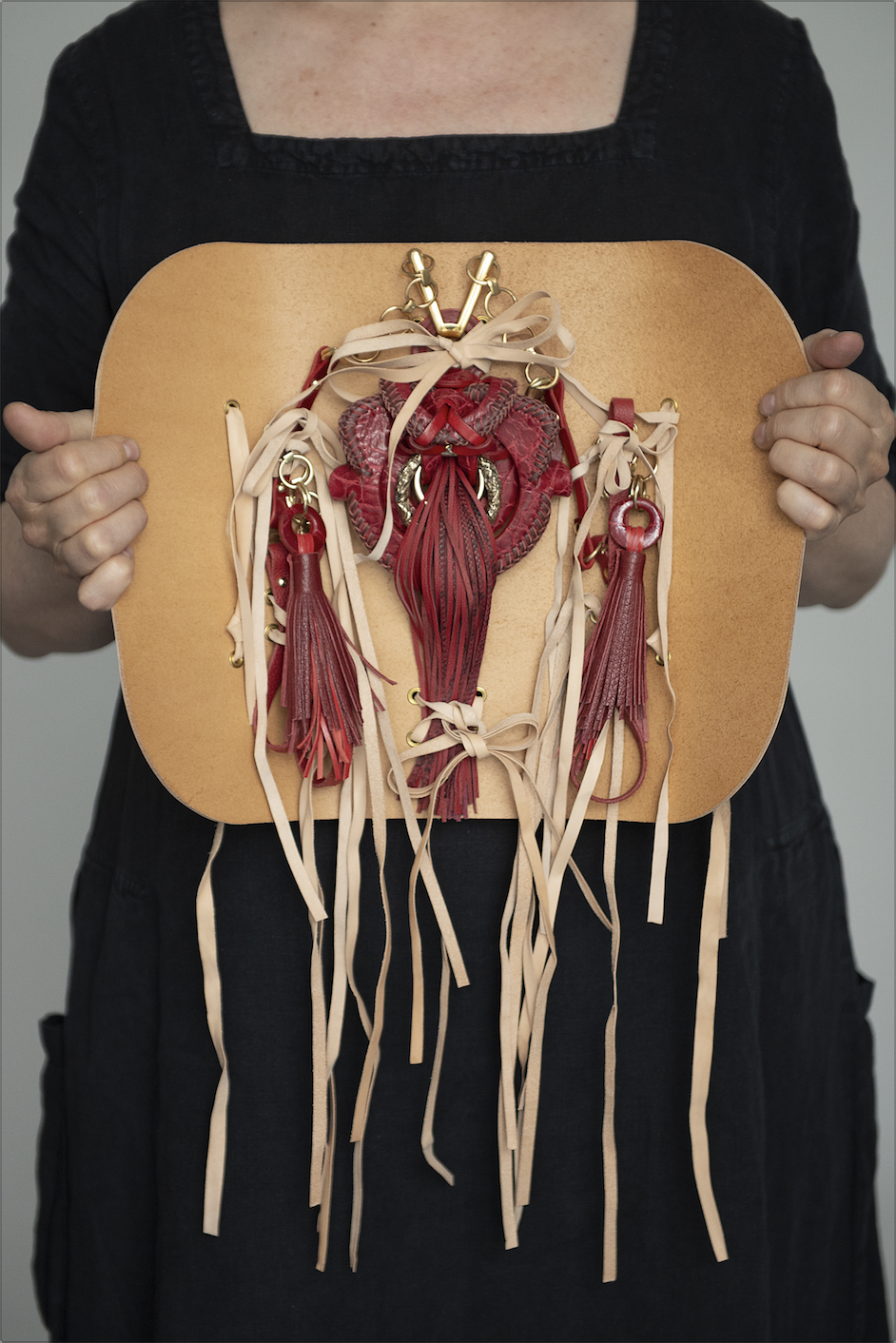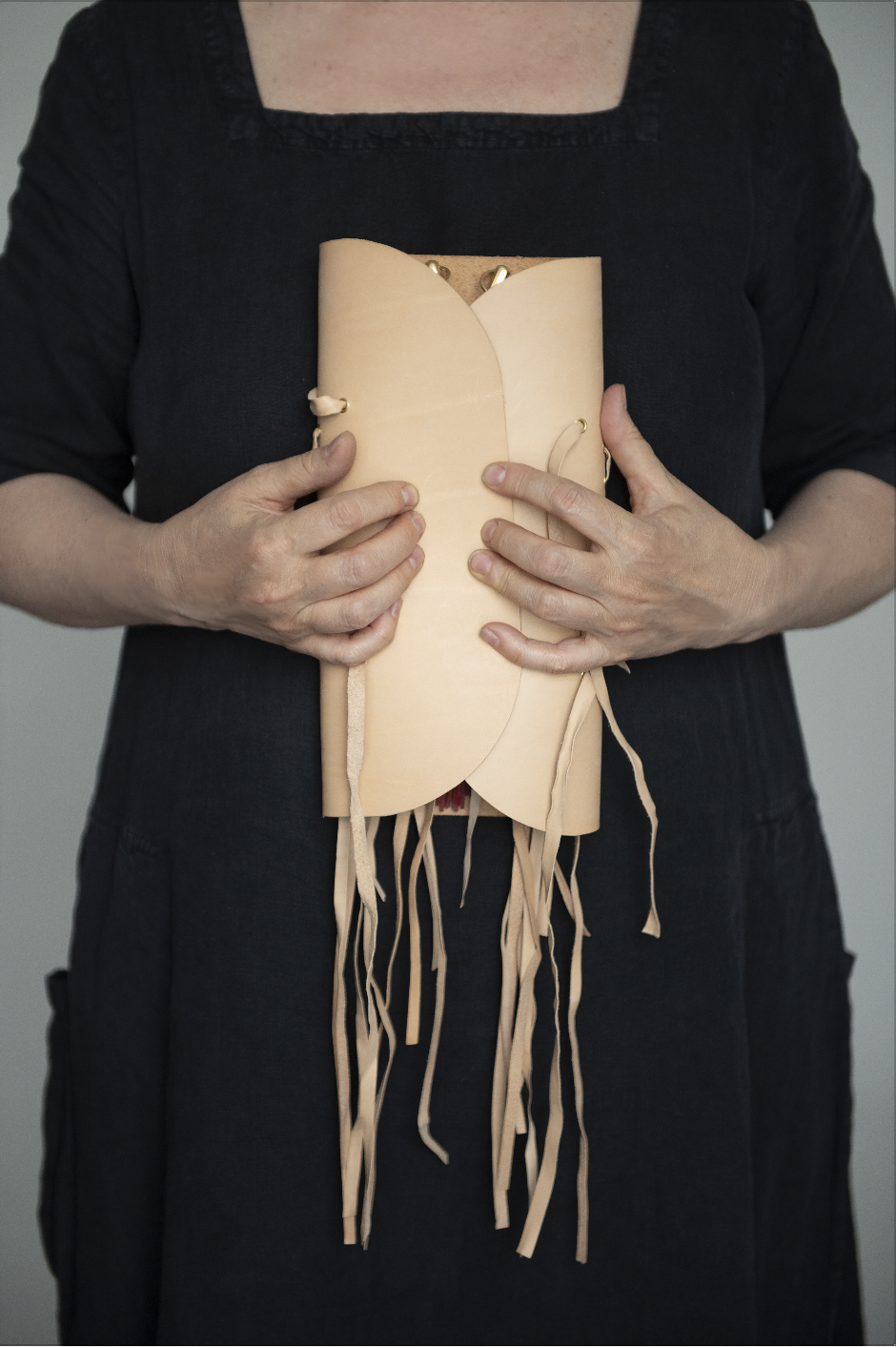 Thanks to an invitation by Julie de Libran at Sonia Rykiel, Maggie Cardelús made her first leather NeckPiece and discovered the beauty and remarkable complexity of leather-craft. This contact with leather led to a residency in South Africa, where she studied with an East London leather master. She continued to study and hone her skills -her French savoir-faire - with masters in Paris, where she has her studio. With patience and work, Cardelús developed her own forms, delving into the largely unexplored territory of shaping leather into knotted, three-dimensional forms: a skill she had explored in over two decades of creating cut and folded photo-based artworks.
The study and development of this new broadening of her practice called upon her experience as architect, artist and designer, leading to the Origine NeckPieces, the Tongue NeckPieces, and to a new fish leather project now in progress: the O.2 NeckPieces.
For this work, art, fashion, and design entwine, stretching and challenging the possibilities and limits of these distinct worlds.
The 49-piece Origine Collection includes 7 unique variations of 7 models.
O.2 NeckPieces (2022)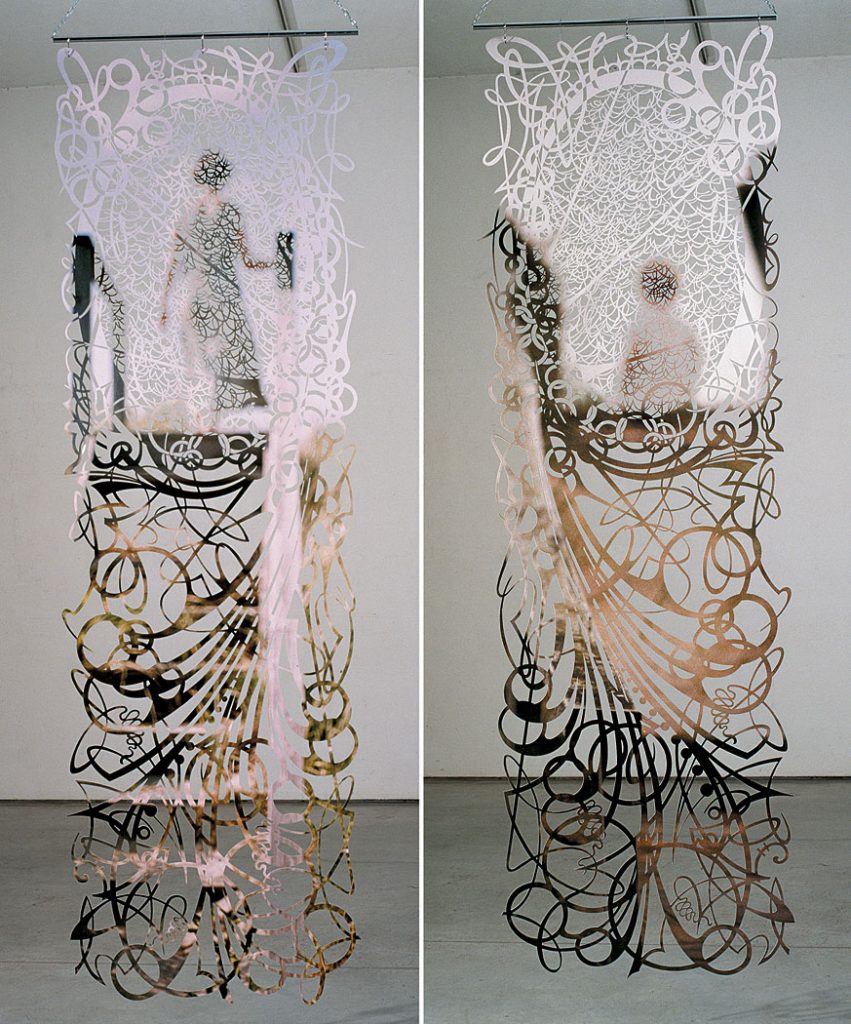 "… to perceive the environment is not to look back on the things to be found in it, or to discern their congealed shapes and layouts, but to join with them in the material flows and movements contributing to their – and our – ongoing formation." (Tim Ingold)
The O.2 NeckPiece project marks and celebrates a revision of a cutout piece I made in 2000 entitled O. When I made O, I was imagining looking forward in time and looking back in time through an oval hole. The hole was more like a mirror that you could look through to the past (as an adult) and to the future (as a child), reflecting a state of mind and an attitude about time linked to age.
I am older now than I was is 2000 and my ideas have changed about what it means to move along the line of life. It isn't a line made up of points along which we open up to perception (looking forward) and then gradually close down (looking back). It is a line of perpetual becoming, a flow of endless intersecting lines of becoming that move forward, forever changing in relation to every other changing thing - millions of points of millions of lives are caught up in an ever-moving mesh.
The ovals of O are now cast rings in the O.2 NeckPieces, and they are markers, singular points of intersection. The gold plated, cast bronze rings physically and visibly intersect with other materials (fish or water snake leather) and their relationships stands for reminders of how our becoming is tied to everything else in our environment, both animate and inanimate. These O.2 NeckPieces will now flow into and become points in the mesh of the becoming lines of other lives.
The twelve O.2 NeckPieces are made with fish leather (salmon, perch, tilapia, and shark) and water snake leather with gold plated hand cast bronze metalwork.
Tongue NeckPieces (2021)
I made this three-piece collection for Galleria Kaufmann Repetto's 20th anniversary exhibition in 2020. 
For this new project, leather tongues stick playfully out of the Tongue NeckPieces and adorn their features with a touch of sensual mischief. Using symmetrical, intertwining layers of folded and worked leather, they also elicit —and pay homage to—the ceremonial exactness and layered sculptural allure of Japanese, knotted obis and ancient warrior garments. 
Origine NeckPieces (2020)
The Origine NeckPieces are expressive creations that adapt and evolve with the adjustment and movement of its tassels, links, and entwined leather. 
No straight lines, no ends, no right or wrong. Expanding and contracting as front switches to back and up to down. Like life's ebb and flow - nothing is definitive.
As amulets they suggest a matrix of  brain, womb, navel, organs, bones, talismans, spells, meditations, relics, laws, recipes, omens, formulae…
Cardelús crafts each NeckPiece in her Paris studio using carefully sourced, premiere overstock leather, that she cuts, finishes, and intricately knots around bronze elements cast in Rome from her waxes. Every piece is an obsessive labor of love.
To house each piece, she makes a handsome vegetable-tan leather case, which like the bronze elements, will acquire a patina over time that adds to its beauty.